There are many ways to engage with the 'Mao Era in Objects' website, from general browsing to a targeted search for biographies and sources on selected objects and historical themes. Below, we outline the main website functions and how to use them. Some of these functions - while hopefully of use to everyone - were initially developed by a team of educators working at UK schools and universities and UK exam boards representatives. They should therefore be of particular help to educators looking to make use of the website materials in their classes.

WEBSITE FUNCTIONS DESIGNED FOR EDUCATORS
The website is designed to enable educators to deliver knowledge-rich lessons about Modern Chinese History.1 In order to deliver these lessons, the website moves beyond some of the main events and people often associated with twentieth-century China. To ensure that the content remains useful to educators, the website is based on UK exam board specifications for the subject of History and these have provided a framework for the selection of relevant information and knowledge that might be discussed in the classroom. The four main A-Level specifications for China-related exam topics can be found here:
Even though UK teaching specifications informed the initial design of the website, most if not all of the website functions should be helpful also to educators who teach subjects other than history or who teach outside of the UK.
In particular, we hope that educators will find the "Filter by keyword" function useful: the keywords were selected on the basis of the above exam teaching specifications and can therefore help link individual objects to general historical themes listed in the specifications.

OBJECTS BIOGRAPHIES AND SOURCES - A BRIEF INTRODUCTION
Each object biography includes an essay written by a leading academic who has experience working with this object. Essays introduce and contextualise the object's history and show how it shaped politics, culture, economy, society or everyday life during this tumultuous time. Authors employ different approaches to analysing their individual objects and this reflects each author's research interests and disciplinary background.
These essays can be downloaded as .pdf documents by clicking on the green download button at the top right of the bio page (as shown on the screenshot of the "wristwatches" page below):
Screenshot of the Wristwatches page: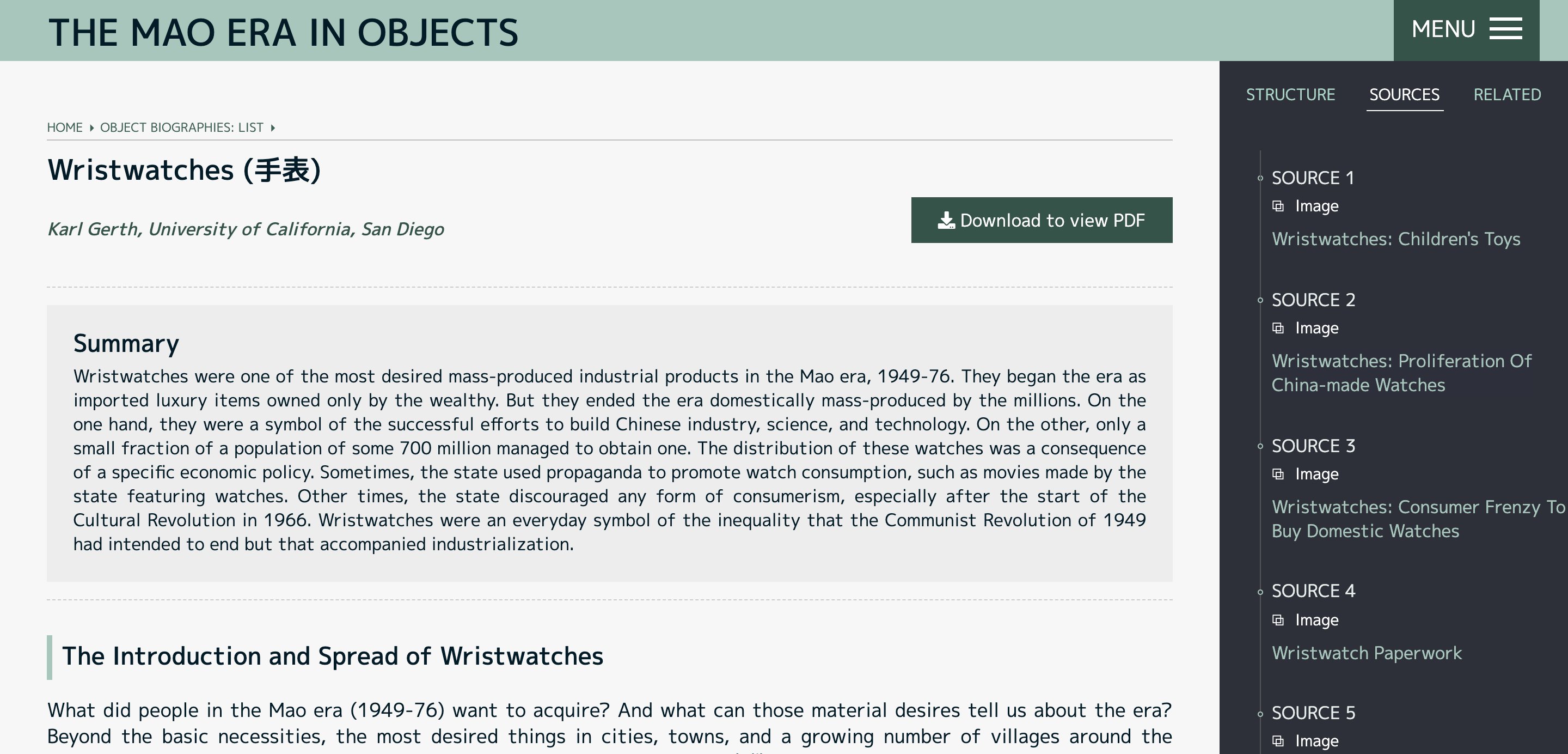 Taken together, these object biographies can thus enrich students' understanding of the past. For example, the biography of the wristwatch can encourage students to deepen their understanding of China's economic and cultural development, and to do so from a fresh perspective. All biographies are accompanied by several historical primary sources, including photos, propaganda posters, translated newspaper articles, guidebooks, brief memoirs, videos, etc.. Many of these are also available for download.
In addition to being associated with individual biographies, all the sources can also be accessed via a separate "Sources" list (listed in the "Menu" in the top right corner of the website):
Screenshot of the Sources page:


FULLTEXT AND KEYWORD SEARCH
The "Search in objects" and "Filter by keywords" functions, both found on the landing page, can be used in different ways:
Fulltext search: Users can enter any word into the "Search in objects" search bar and press "Enter" or the magnifying glass icon to the right. This will prompt a fulltext search across all object biographies.
Facetted search: Clicking on the "Filter by keywords" button will open a sidebar with a list of selected keywords that relate to larger themes in Mao Era history (see screenshot below). These are based on the UK exam boards' teaching specifications and will allow educators to find biographies pertinent to specific themes in the syllabi.
Fulltext search followed by a facetted search: It is also possible to first conduct a fulltext search with one word followed by another search within this selection based on the keywords listed in the sidebar.
Historical themes can be explored through individual objects or, by clicking on an option listed in the sidebar, through the relationship between a selection of objects. For example, a comparison of the wristwatch and the stool allows students to learn more about Chinese consumerism, but to do so in a way that prioritises knowledge often unavailable in textbooks.
The 'Filter by keywords' function may at times suggest object biographies that at first do not seem to be related in an obvious way to the specific theme. Whenever this is the case, it means that the author touches on the particular theme in the essay in some way (sometimes briefly) and we have therefore included this keyword in order to give users the greatest possible choice.
Screenshot of the Home page with the 'Filter by keywords' sidebar opened: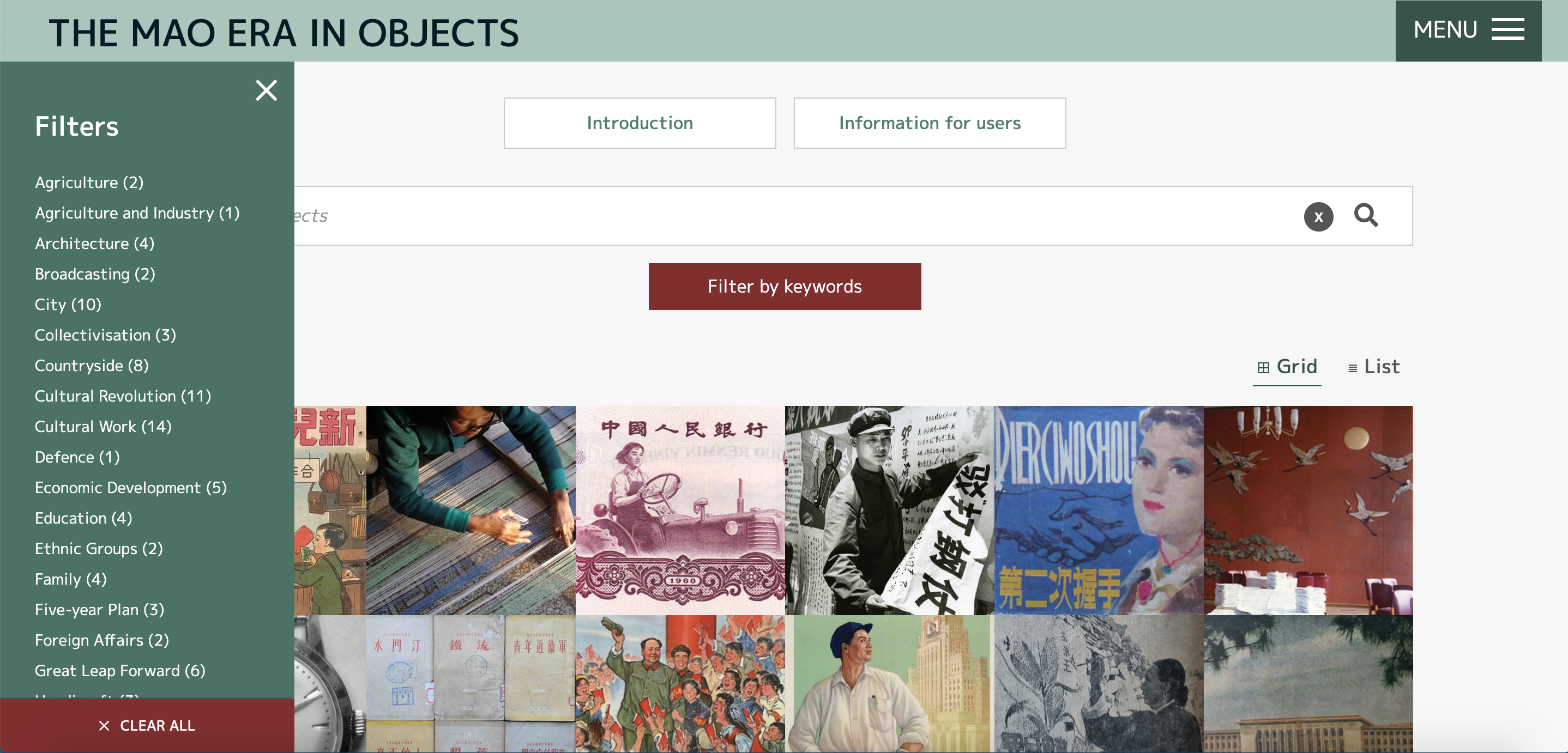 TIMELINE AND MAP
These two features encourage users to follow the historical trajectory of objects over time and across space. Many objects have individual timelines and/or maps (where this was possible for the particular object). All object timelines and maps have also been merged into an "aggregated timeline" and an "aggregated map". Both can be accessed via the "Menu" in the top right corner of the website. The timelines and maps are predominantly focused on smaller-scale developments relating to individual objects. They are not comprehensive and only include some general historical events. As such, and when read against a more general timeline, they offer a fresh perspective on periodization and geography of the Mao Era. They are designed to help users to explore the relationships between objects and to explore how we can write the history of this period beyond famous events and individuals. Students, in particular, will be able to develop more nuanced understandings of China's development and learn to construct more sophisticated explanations of change over time.
Screenshot of the Aggregated Timeline page:
Screenshot of the Aggregated Map page:

FURTHER READINGS
The website includes a list of further readings featuring key scholarly texts, published documents, and online resources related to the subject. This list is not exhaustive and it only includes works in English. We nonetheless hope that it will provide a first resource for anyone interested in learning more about the history of China after 1949.


Footnotes
1 Recent debate within UK educational circles has emphasised the importance of teachers delivering 'knowledge-rich' lessons, where substantive knowledge is 'over-emphasised' and not constrained by a 'need-to-know' approach: Michael Fordham, 'What makes a curriculum "knowledge-rich"?' Clio et cetera, 19 November 2016 (https://clioetcetera.com/2016/11/19/what-makes-a-curriculum-knowledge-rich/).